What is LottieFiles Plugin for Figma?




LottieFiles for Figma optimizes your design workflow so that you can focus only on designing. It helps you create realistic prototypes with animations and gives access to the world's largest Lottie animations library right within your favorite design tool, Figma.

With the LottieFiles plugin for Figma you can:
Drag and drop your very own dotLottie (.lottie) and Lottie JSON (.json) files
Access a library of 1000s of free Lottie animations. Access all your animations previewed on LottieFiles
Insert animation frames as high-quality SVGs (single frame)
Insert Lotties as GIF animations select the background color you want for your GIF


Key Features
Insert animation frames as SVGs
We have you covered if you are looking for ready-made SVG drawings to use in Figma. Use our intuitive plugin to select the specific frame from an animation and insert it as SVG.
Import Lotties as GIFs
Motion is one of the best ways to demonstrate complex concepts. Add a Lottie of your choice as a GIF in your prototypes with only a few clicks.
Edit Lotties before exporting
Customization is vital to creating unique designs. So why should your creations be generic? Edit the background of your Lotties to sync with your project theme.
Download LottieFiles for Figma
You can download the plugin from this Figma Community page or search Lottiefiles on the Community > Plugin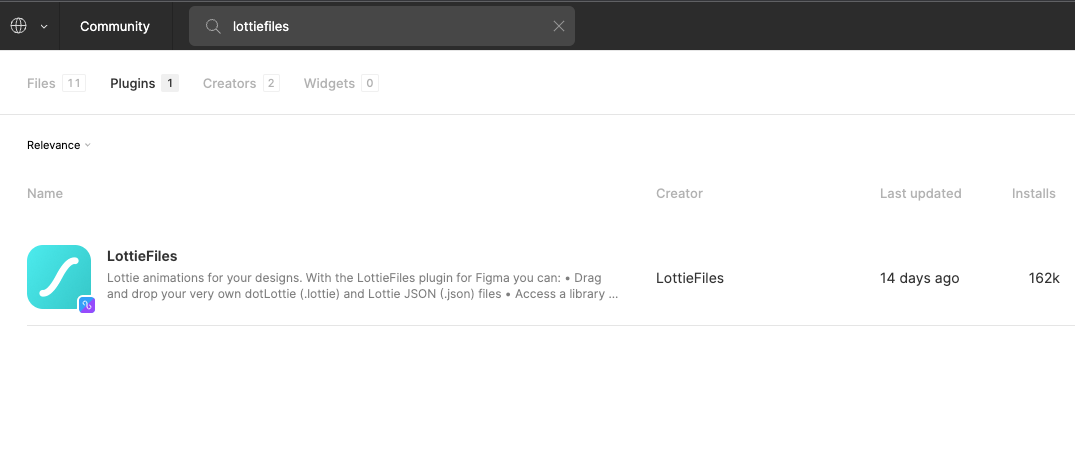 Installation Guide
You can install the Lottiefiles plugin in Figma for the Figma web platform or on the Figma Desktop app.
Figma web platform

Simply go to this link https://www.figma.com/community/plugin/809860933081065308/LottieFiles and click on the Install button on the right-top of the page.

Once you clicked on the Install button, you will be prompted to log in to Figma and it will automatically add the plugin to your profile.


Figma Desktop App

1. On the menu bar, click on Plugins --> Manage Plugins...
2. Click on Browse Plugins in Community
3. Search Lottiefiles and click on the Install button